Testimonials
If you have some kind words to say about us, please e-mail them to info@holtfloorcare.com. You will find a link in the Contact section of this web site.
Thank You!
Here is what some of our past customers have said about our services:
Dave,
The floors look great……..You would have noticed them even more if it wasn't for the Victoria's Secret models in their lingerie.
But, seriously fantastic job.
Jon
David,
Thank you so much for an outstanding job. Every time I look in the bathroom I feel so pleased. In the future, I shall not hesitate to call you for all my household cleaning and maintenance needs.  I have found your services to be essential.
I do wish you and your family a very Happy Easter.
Sincerely,
Alice C.
Silverlake, CA
David- I wanted to show you how much I appreciated the care you took to make me so satisfied with the work.
Moreover, it has never been pleasant for me to have people working all day in my home. You were an exception. You, Kevin and your friend were so personable that I was able to work and get things accomplished without feeling "invaded". And I did appreciate your kindness to my sweet Tessa (my cute kitty).
Warm regards,
Mrs. E.
Pasadena, CA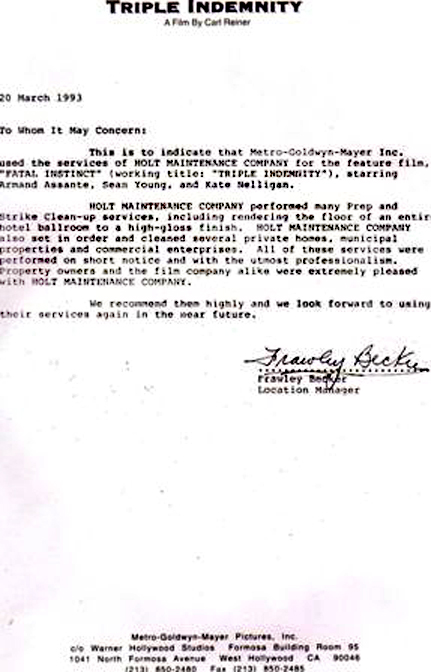 "Holt Maintenance Company did a superb job of treating and restoring luster on my wood floors. David Holt demonstrated exceptional integrity and provided education on maintaining the floors in the best manner.
Bill B.
West Hollywood, CA
David,
David and Kevin Holt did an absolutely fantastic job bringing the shine back to the floor. It is like a different space, and their work made all the difference.
Ali
Media Production Office
Santa Monica, CA
(Secondary office space readied for use)"
David,
The floor looks amazing. Thank you very much!
Great work.
Ali
Media Production office
Santa Monica, CA  (Primary office space)
Hi David,
Thank you for the floor care instruction writeup and the shining job you
did on the hardwood floor in my home. I appreciate
your dedication to your clients and jobs!
Regards,
S. D.
Los Angeles, ca
"September 11th 2009
To Whom this concerns:
David and Kevin Holt and their crew did a great job of continuing cleanup during and after the final stages of construction at a large new Beverly Hills home.
I was in charge of making the owners' move in as smooth as possible, and their meticulous cleaning, cheerful willingness and professional, friendly attitude made my job easier and made the owners very happy. I would recommend their services to anyone interested in after-construction cleanup.
Regards-
Patrick Sims
Property Manager
"David Holt and his son fixed my wood floors after a cleaning crew really messed them up.  I could not have been happier with the outcome. The floors looked beautiful and the service was affordable.
I will always use Holt Maintenance for any of my household needs.
Thank you!
Patricia Carter